Heat may outpace corals' ability to cope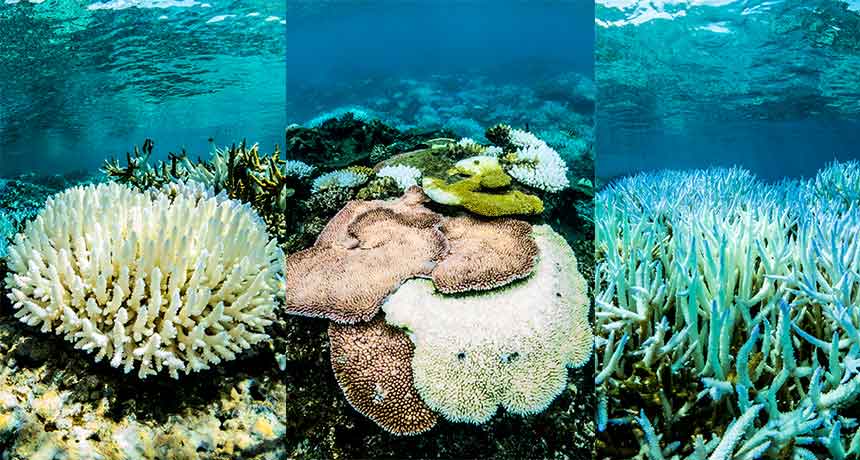 Corals are in hot water — and may soon lose their ability to handle the heat.
In Australia's Great Barrier Reef, most past bouts of warming allowed many corals to adjust their physiology and avoid serious damage. But as waters warm even more, corals could run out of wiggle room, researchers report in the April 15 Science.
"One of the things that we have been striving for is trying to figure out the rate and limit of … physiological adjustments that corals have, how far you can push them," says marine biologist Stephen Palumbi of Stanford University, who was not involved with the study. Corals may not be able to cope with much more ocean warming, Palumbi says. "I would take this paper as being the first real indication that we have half a degree at most."
If water temperatures surge quickly, corals may bleach, losing the bacterial residents that provide them with nutrients and oxygen (and color). But if waters warm slightly — less than the roughly 2 degrees Celsius above average heat spike where bleaching begins — and then cool for a brief time before heating up to a greater extent, corals are better prepared to survive the heat. In the lab, corals exposed to this two-step heating process experienced less bleaching and less cell death than corals suffering a high initial heat wave, the researchers found.
"We liken it to the idea of training for a marathon," says study coauthor Scott Heron, a physical oceanographer with the National Oceanic and Atmospheric Administration's Coral Reef Watch in College Park, Md. "If they have a little bit of exposure, and then the recovery period after that … they're better prepared for the race when it comes."
From 1985 to 2011, around 75 percent of warming events on Great Barrier Reef sites occurred in this stepwise fashion, probably allowing corals to steel themselves and survive warmer waters. But with climate models predicting a 2-degree increase in sea temperatures by the end of the century, warming events could soon push corals past their bleaching point with no chance to prepare.
Computer simulations predicted that as waters grow warmer, reef heat waves will increase overall. But the fraction of such events that could condition corals to withstand bleaching will fall from 75 percent to 22 percent, the team reports. Most reefs that have experienced preconditioning in the past will start losing the ability to prepare when water temperatures increase by 0.5 degrees, the team predicts. Warming trends suggest that the added half degree should appear within 40 years. "If that protective mechanism does get lost going into the future, then what we've seen so far as being bad impacts could become worse," Heron says.
For now, preparation may help some corals survive in warming seas, but reduced carbon emissions will also be required to sustain coral cover throughout the century, the team's data suggest. Palumbi says these predictions are very important. "If we get a handle on emissions, there are substantial predicted differences in the way that coral populations live in the future," he says. "We are still in a position to choose how the future of coral reefs works out."