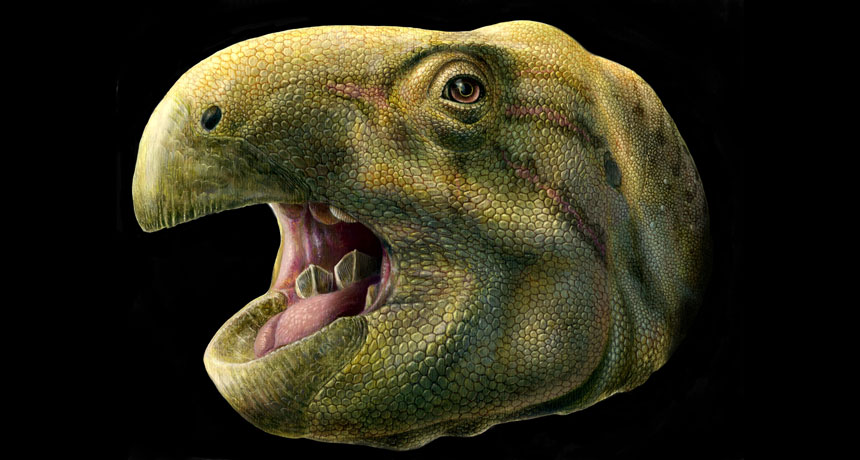 An ancient vegetarian dinosaur from the French countryside has given paleontologists something to sink their teeth into.
The most striking feature of a new species of rhabdodontid that lived from 84 million to 72 million years ago is its oversized, scissorslike teeth, paleontologist Pascal Godefroit, of the Royal Belgian Institute of Natural Sciences in Brussels, and his colleagues report October 26 in Scientific Reports. Compared with other dinos of its kind, Matheronodon provincialis' teeth were at least twice as large but fewer in number. Some teeth reached up to 6 centimeters long, while others grew up to 5 centimeters wide. They looked like a caricature of normal rhabdodontid teeth, Godefroit says.
Of hundreds of fossils unearthed over the last two decades at a site called Velaux-La Bastide Neuve in the French countryside, a handful of jaw bones and teeth now have been linked to this new species, Matheronodon provincialis. The toothy dino belongs to a group of herbivorous, bipedal dinosaurs common in the Cretaceous Period. Rhabdodontids sported bladelike teeth, and likely noshed on the tough woody tissue parts of plants. Palm trees, common in Europe at the time, might have been on the menu.
Rhabdodontid teeth have ridges covered by a thick layer of enamel on one side and little to no ridges or enamel on the other. Teeth in the upper jaw have more ridges and enamel on the outer edge, while the reverse is true for bottom teeth. A closer look at the microstructure of M. provincialis' teeth revealed an exaggerated version of this — many more ridges and lopsided enamel coating. Enamel typically protects from wear and tear, so chewing would have sharpened the dino's teeth. "They operated like self-sharpening serrated scissors," Godefroit says.