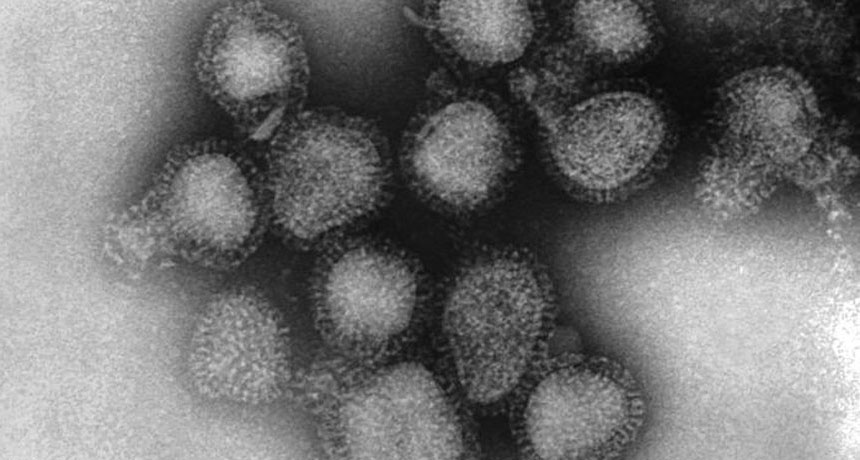 With fevers, chills and aches, the flu can pound the body. Some influenza viruses may hammer the brain, too. Months after being infected with influenza, mice had signs of brain damage and memory trouble, researchers report online February 26 in the Journal of Neuroscience.
It's unclear if people's memories are affected in the same way as those of mice. But the new research adds to evidence suggesting that some body-wracking infections could also harm the human brain, says epidemiologist and neurologist Mitchell Elkind of Columbia University, who was not involved in the study.
Obvious to anyone who has been waylaid by the flu, brainpower can suffer at the infection's peak. But not much is known about any potential lingering effects on thinking or memory. "It hasn't occurred to people that it might be something to test," says neurobiologist Martin Korte of Technische Universität Braunschweig in Germany.
The new study examined the effects of three types of influenza A — H1N1, the strain behind 2009's swine flu outbreak; H7N7, a dangerous strain that only rarely infects people; and H3N2, the strain behind much of the 2017–2018 flu season misery (SN: 2/17/18, p. 12). Korte and colleagues shot these viruses into mice's noses, and then looked for memory problems 30, 60 and 120 days later.
A month after infection, the mice all appeared to have recovered and gained back weight. But those that had received H3N2 and H7N7 had trouble remembering the location of a hidden platform in a pool of water, the researchers found. Mice that received no influenza or the milder H1N1 virus performed normally at the task.
Researchers also studied the brain tissue of the infected mice under a microscope and found that the memory problems tracked with changes in nerve cells. A month after H7N7 or H3N2 infection, mice had fewer nerve cell connectors called dendritic spines on cells in the hippocampus, a brain region involved in memory. Electrical experiments on the nerve cell samples in dishes also suggested the cells' signal-sending abilities were impaired.
What's more, these mice's brains looked inflamed under the microscope, full of immune cells called microglia that were still revved up 30 and 60 days after infection. Cell counts revealed that mice that had suffered through H3N2 or H7N7 had more active microglia than mice infected with H1N1 or no virus at all. That lingering activity was surprising, Korte says; most immune cells in the body usually settle down soon after an infection clears.
These memory problems and signs of brain trouble were gone by 120 days, which translates to about a decade in human time, Korte says. "I'm not saying that everyone who has influenza is cognitively impaired for 10 years," he says, noting that human brains are much more complex than those of mice. "The news is more that we should not only look at lung functionality after the flu, but also cognitive effects, weeks and months after infection."
H7N7 can infect brain cells directly. But H1N1 and H3N2 don't typically get into the brain (and Korte and colleagues confirmed that in their experiments). Some flu viruses may be causing brain trouble remotely, perhaps through inflammatory signals in the blood making their way into the brain, the study suggests. If that pathway is confirmed, then many types of infections could cause similar effects on the brain. "It is plausible that this is a general phenomenon," Elkind says.